Advanced technology is important, but what truly sets us apart is our specialized expertise and experience. Our principals,
Mr. Michael Rix and Dr. Moe Zolghadr, each have 25 years of experience in resolving and managing odor impact issues.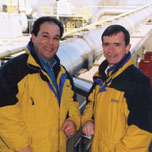 They are recognized experts in odor assessments, olfactometry evaluations, dispersion modelling, and in developing odor capture and control strategies and design of abatement systems. ZORIX also has considerable project and contract management expertise and a complement of technical and professional staff with years of experience on many successful projects.
ZORIX Environmental is a complete-service company dedicated to resolving odor impact issues. We help our clients manage issues related to off-property odor impacts and VOC emissions - from diagnosing the problem and conducting measurements; to formulating odor capture and control strategies and design and implementation of effective abatement systems. With our creative solutions based on years of experience, our clients' risk is minimized.